Horiba 4M LAQUAtwin Kit with Sodium, Potassium, Nitrate and Calcium Ion Tester
Product number: 895690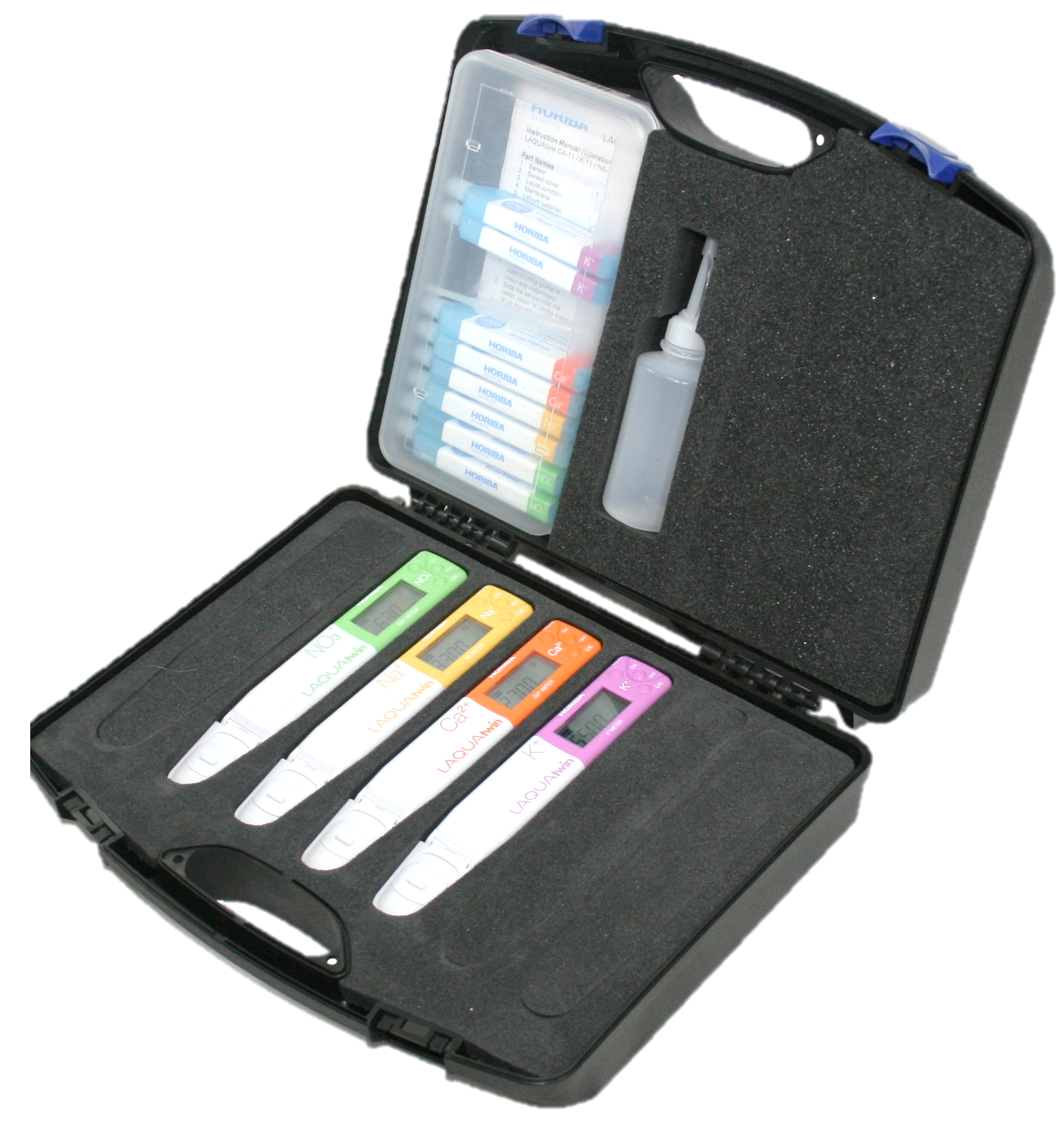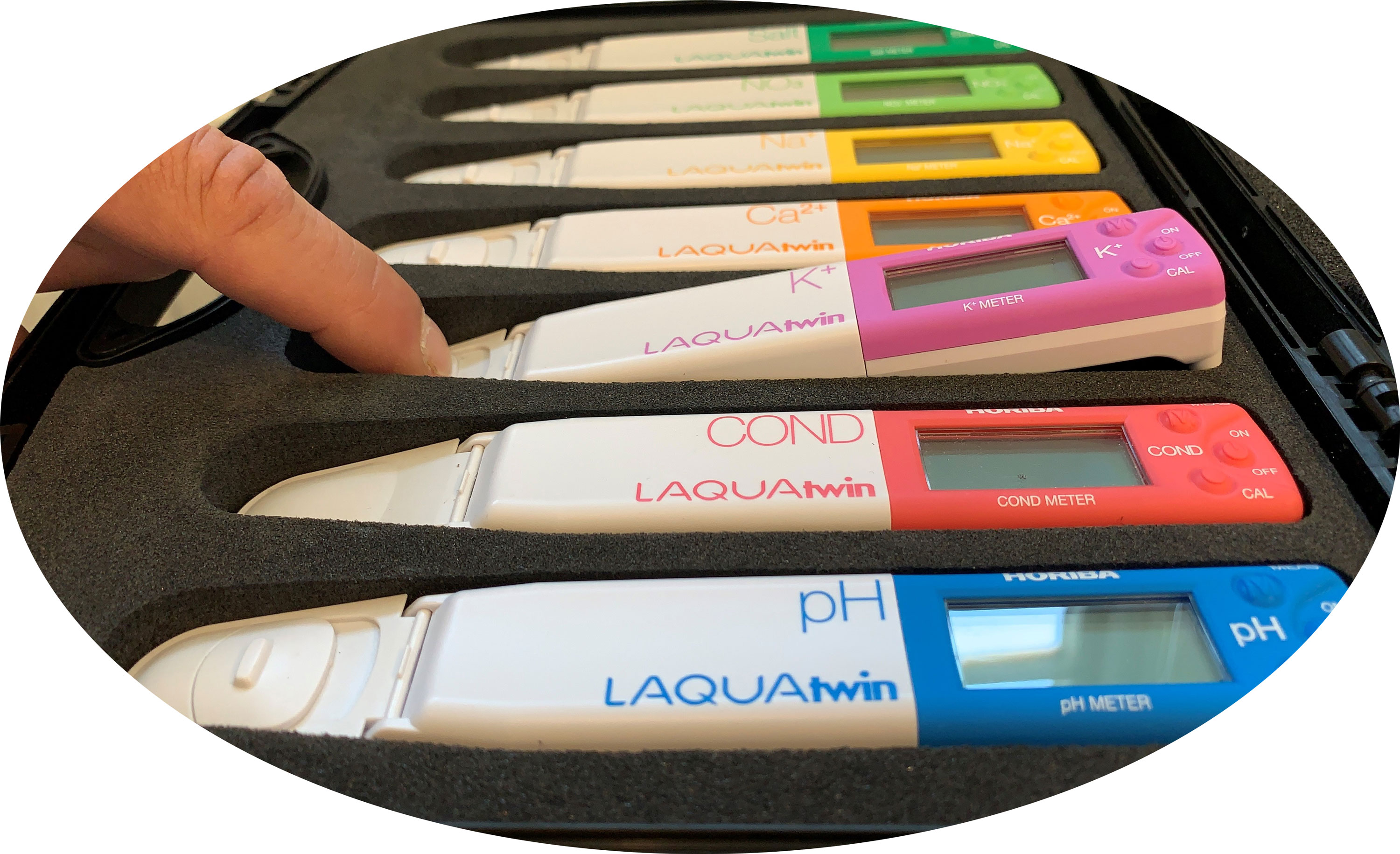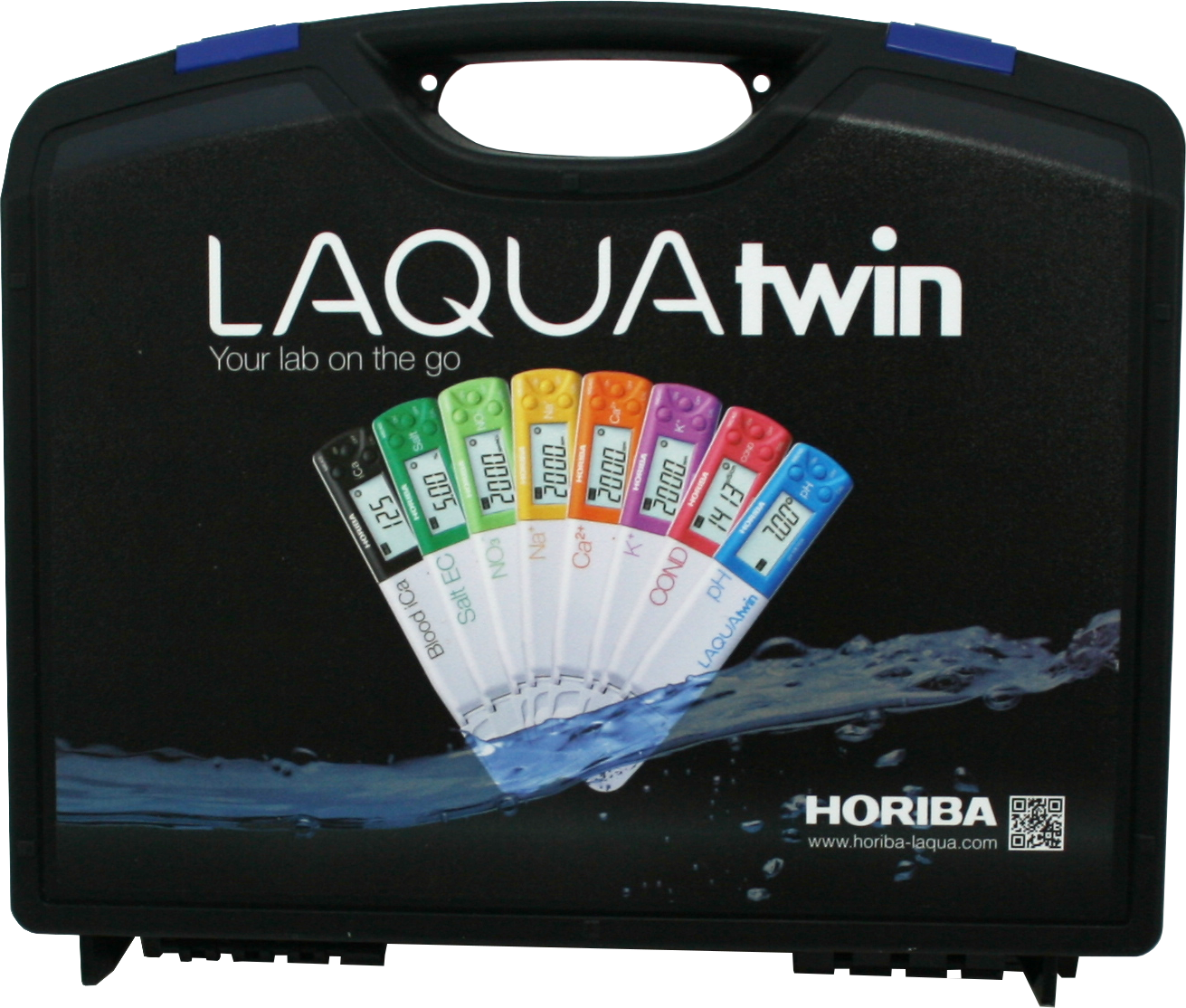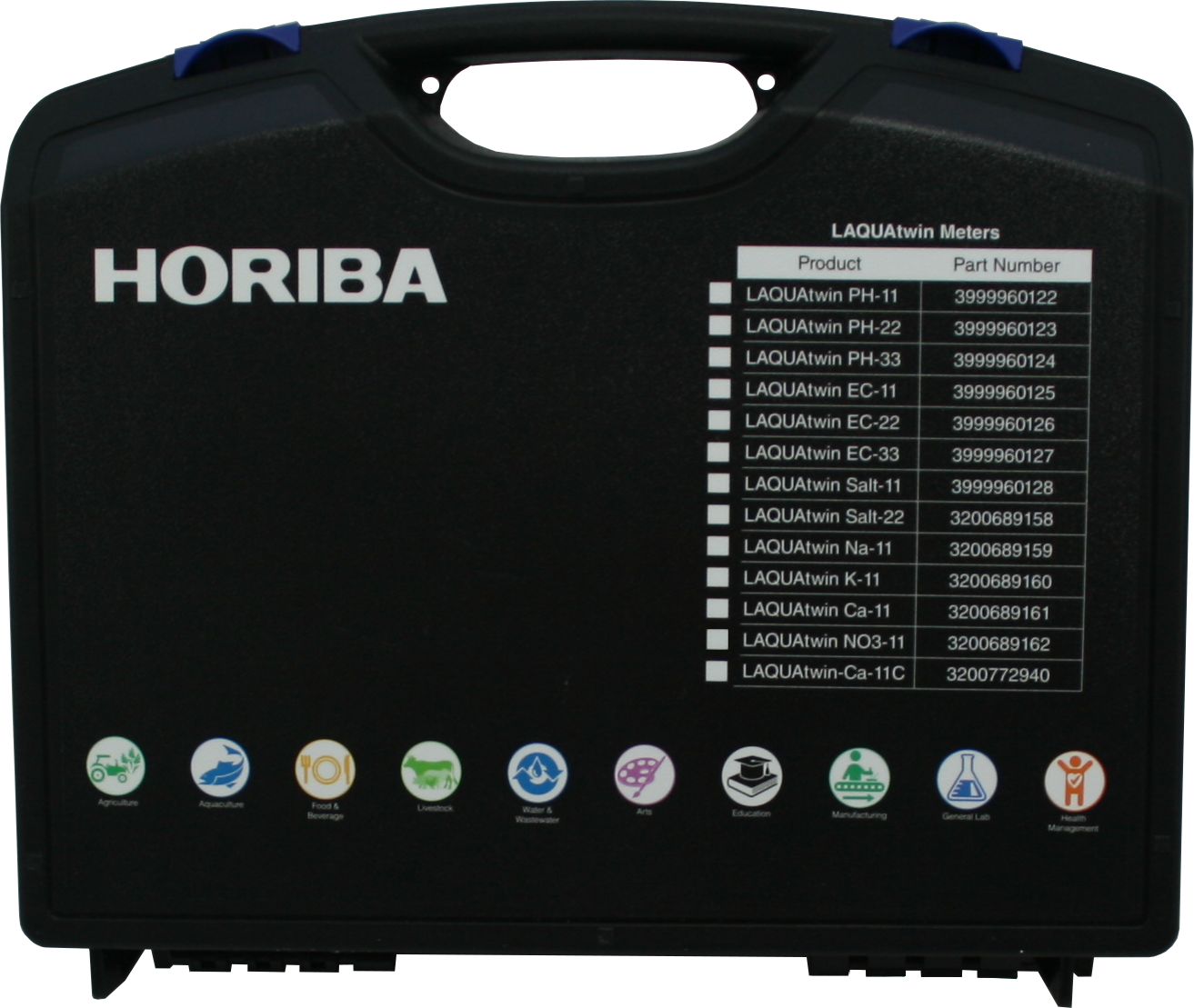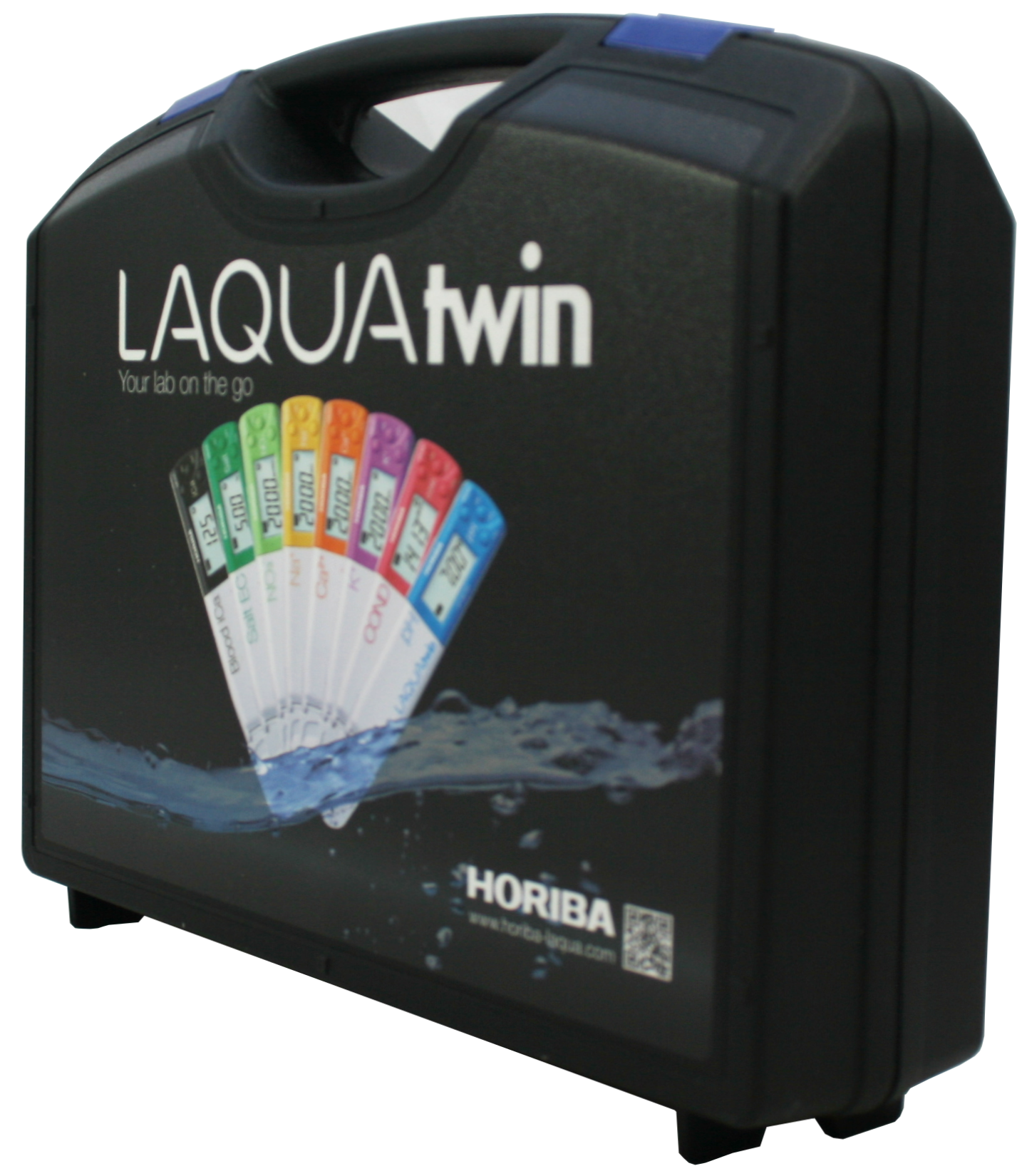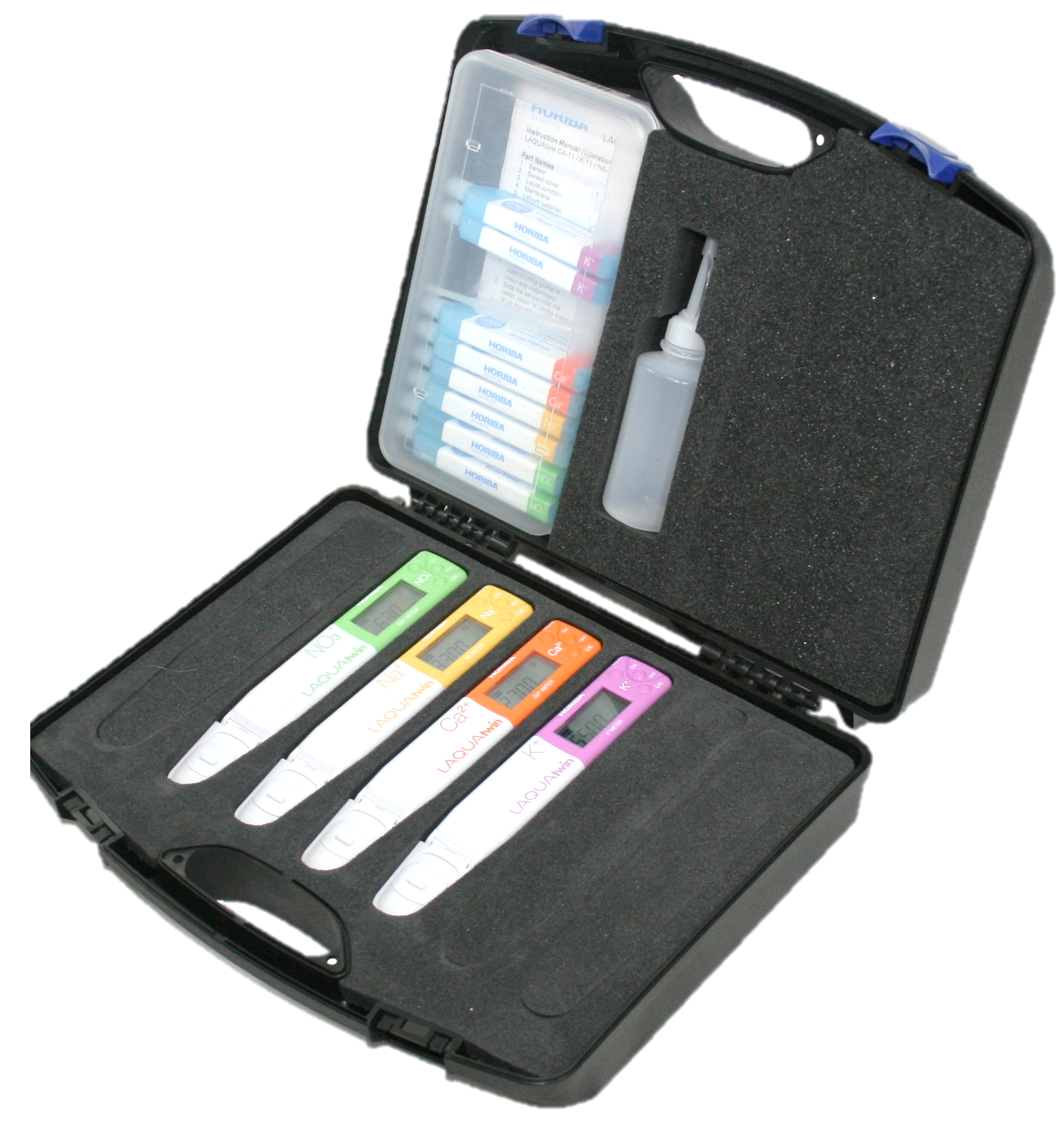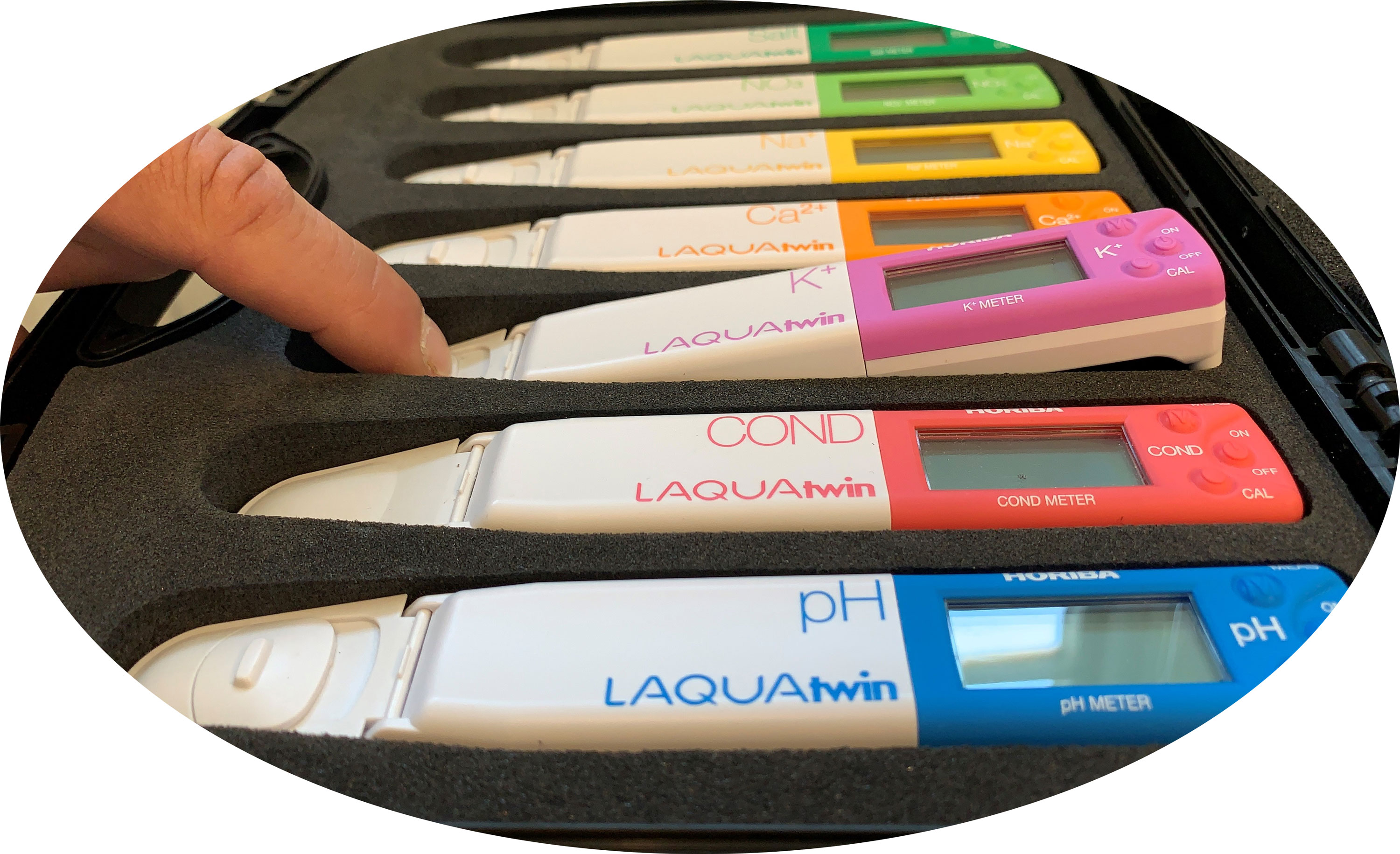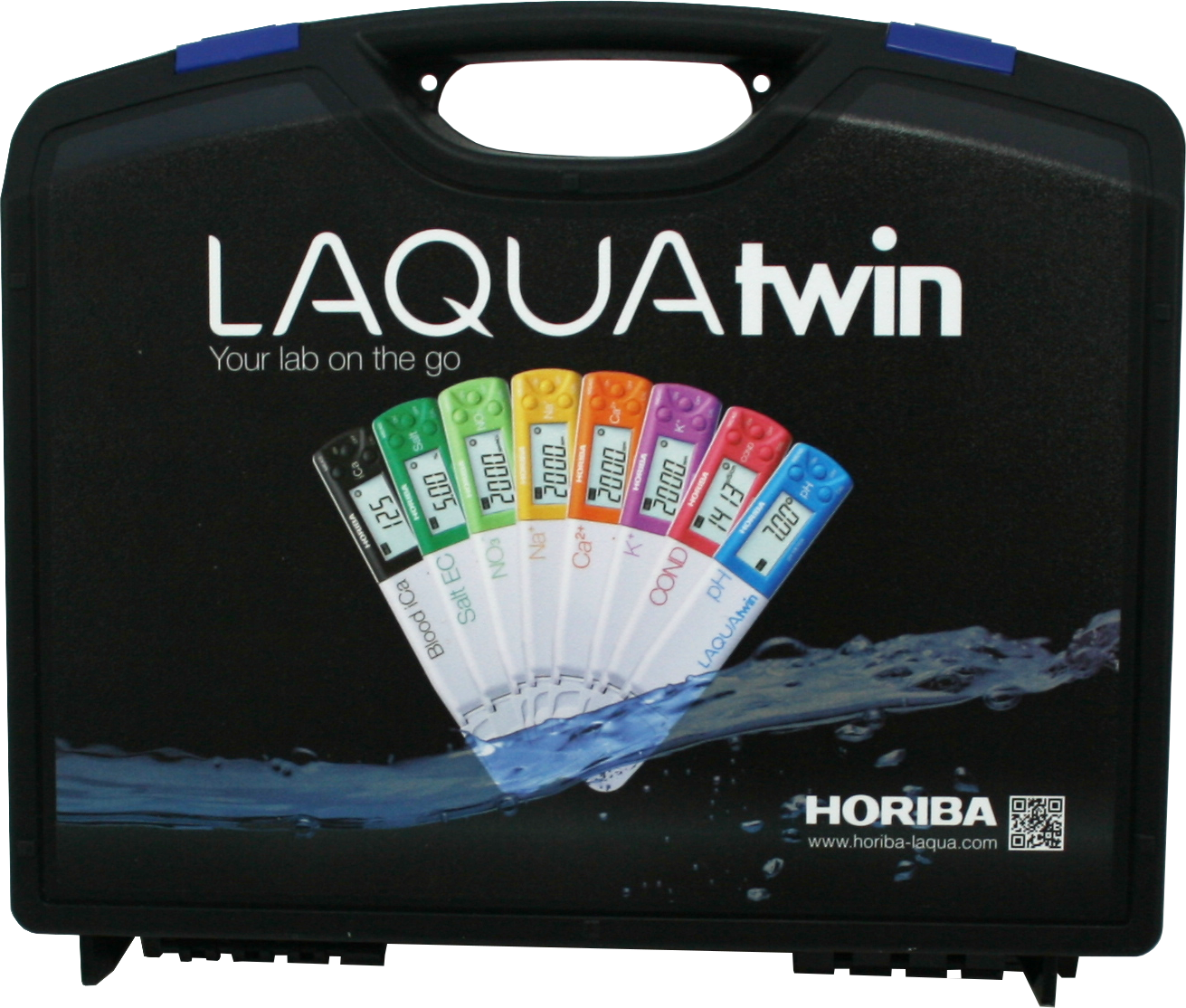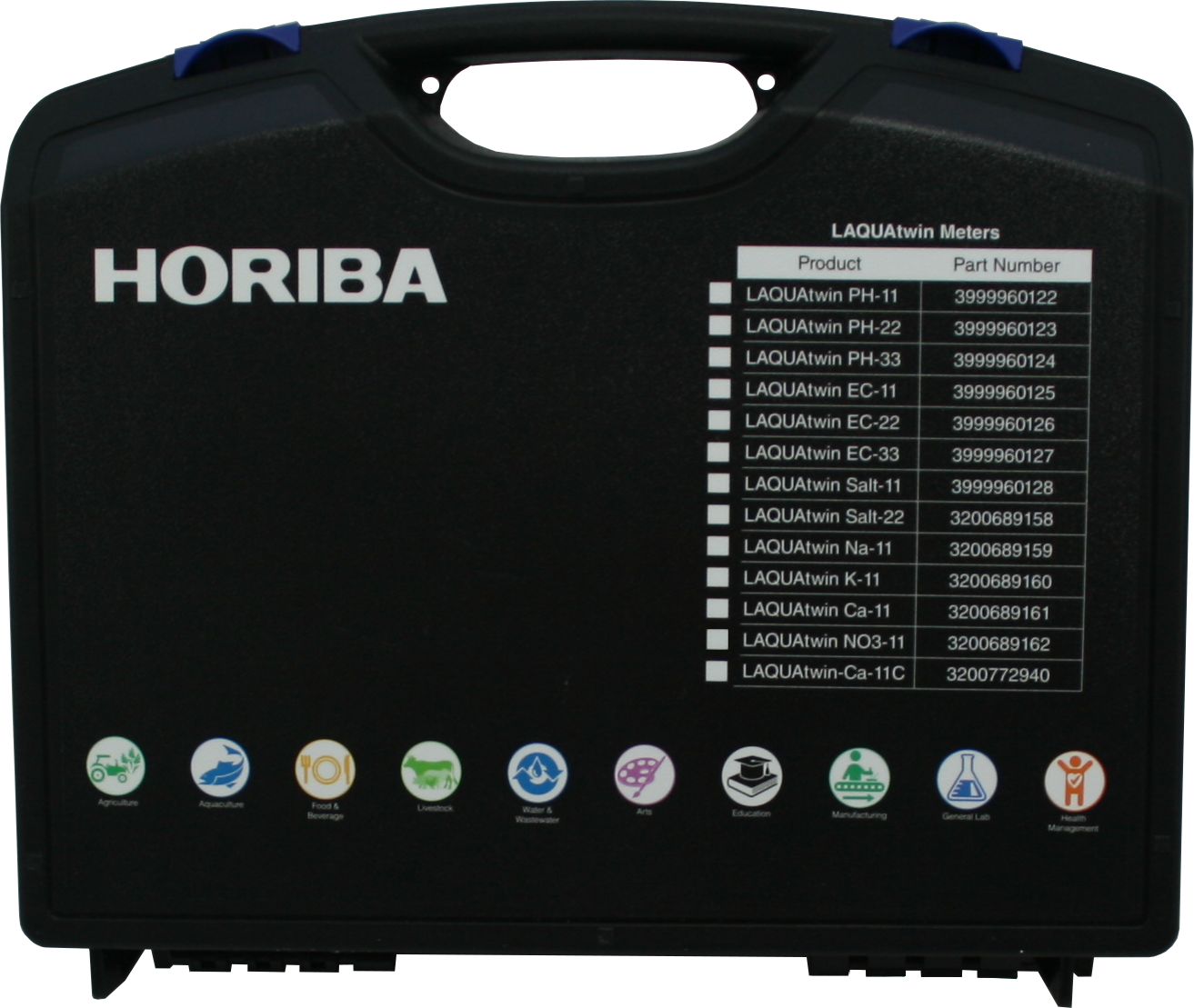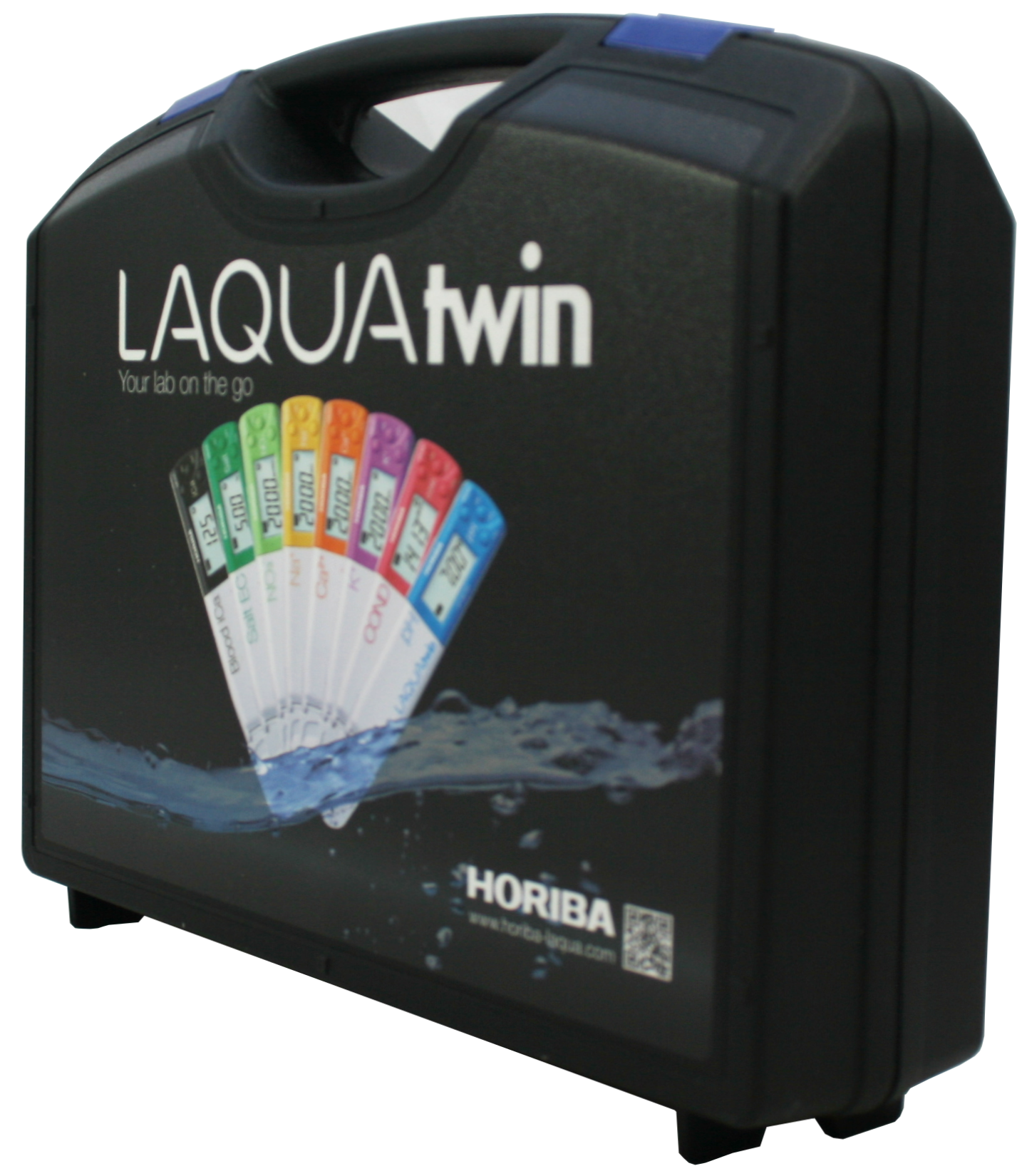 €1,442.00*
Please log in to receive your conditions.
Available in 14 days, delivery time 1-2 days
Measurement parameters:
Sodium ions | Potassium ions | Nitrate ions | Calcium ions | Temperature
Measuring range:
see technical data
Our comment:
Simply select your free tester in the shopping cart. A case for a variety of analyses, always ready for use.
Product information "Horiba 4M LAQUAtwin Kit with Sodium, Potassium, Nitrate and Calcium Ion Tester "
With the HORIBA 4M LAQUAtwin Kit you get a high-quality mobile laboratory for your analyses.
The high-quality case contains the well-known ion selectives "Made in Japan" LAQUAtwin Pocket Tester for sodium, potassium, nitrate and calcium determination and offers you a price advantage, as you receive the case including accessories free of charge compared to a single purchase.
The lid of the case itself contains a storage box for the colour-sorted calibration solutions included in the scope of delivery, as well as a wash / spray bottle for easy cleaning of the sensors.
The case itself can hold up to seven HORIBA LAQUAtwin Pocket Testers, so simply add the additional testers you want to the shopping basket and we will take care of everything else.
As usual, the manufacturer provides a two-year warranty and the devices offer the advantage that the sensors can be stored dry and you do not need any storage solutions.
Do you have any questions? Please feel free to call us!

Manufacturer Part No. 1300083234
Applications:

Aquaculture and Coral

, Beer

, Beverages

, Environmental

, Food

, Horticulture

, Hydroponics

, Laboratory

, Schools

, Water Conditioning

, Water Treatment

, Wine

Brand:

Horiba

Parameter:

Calcium Ion (Ca2+)

, Combined Multiparameter

, Nitrate Ion (NO3-)

, Potassium Ion (K+)

, Sodium Ion (Na+)

Quality:

Advanced
Technical data
Measurement Principle: Ion Selective Electrode
Minimum Sample Volume: 0.3 ml (0.05 ml with Sampling Sheet B)
Sodium (Na+)

Measuring range:
2 to 9900 ppm (mg/L)
(0.1 to 430 mmol/L)
Resolution:
0 to 99 ppm: 1 ppm
100 to 990 ppm: 10 ppm
1000 to 9900 ppm: 100 ppm
Accuracy:
± 10%
of actual value
Maximum Calibration Points: 2
Temperature Display / Resolution: 0 to 50.0 ºC (0.1 ºC)
Potassium (K+)
Measuring range:
4 to 9900 ppm (mg/L) - (0.1 to 250 mmol/L)
2 to 5000 kg/10a (soil/water ratio 1:5)
0 to 99 ppm: 1 ppm
100 to 990 ppm: 10 ppm
1000 to 9900 ppm: 100 ppm
Accuracy: ± 10% of actual value
Maximum Calibration Points: 2
T
emperature Display / Resolution: 0 to 50.0 ºC (0.1 ºC)
Nitrat (NO3-)
Measuring range:
NO3- : 6 to 9900 ppm (mg/L) - (0.1 to 160 mmol/L)
NO3-N : 1.4 to 2200 ppm (mg/L)
Resolution:
1000 to 9900 ppm: 100 ppm
Accuracy: ± 10% of actual value
Maximum Calibration Points: 2
Temperature Display / Resolution: 0 to 50.0 ºC (0.1 ºC)
Calcium (Ca2+)
Measuring range:
4 to 9900 ppm (mg/L) - (0.1 to 250 mmol/L)
Resolution:
0 to 99 ppm: 1 ppm
100 to 990 ppm: 10 ppm
1000 to 9900 ppm: 100 ppm
Accuracy: ± 20%
of actual value
Maximum Calibration Points: 2
Temperature Display / Resolution: 0 to 50.0 ºC (0.1 ºC)
Generell functions
Automatic Standard Recognition

Changeable Low and High Calibration Values

Temperature Compensation

Temperature Calibration

Multiplication Compensation (0.01 to 9.90)

Auto Hold / Auto Stable

Automatic Power Off (30 mins.)

Low Battery Indicator

IP67 Water / Dust Proof

Replaceable Sensor
Display: Custom (Monochrome) Digital LCD with Backlight
Operating Temperature / Humidity: 5 to 40 ºC / 85% or less in relative humidity (no condensation)
Battery Life: Approx. 400 hrs. continuous use without backlight
Material: ABS epoxy body / flat glass sensor
Dimensions: 164 x 29 x 20 mm(excluding projections)
Weight: Approx. 55g (including sensor and batteries)
Accessories included

150 & 2000 ppm Standard Solution for each tester (14 ml each)
CR2032-Batteries
Wash / spray bottle
Droppers
Instruction & Quick Manuals
Add the following testers to your case, depending on your needs